4 Relaxing Lounge Spots Made Possible by Outdoor Turf
Dec 07, 2017
Artificial outdoor turf is known for the numerous practical benefits it offers modern homeowners. But although those features can't be denied, we'd be remiss to ignore its more easy-going advantages. The fact is that many choose to install outdoor turf as much for its looks and creative adaptability as its water-conserving and weather-resistant properties.
Here are 4 outdoor turf applications that have allowed homeowners some serious time to sit back and relax.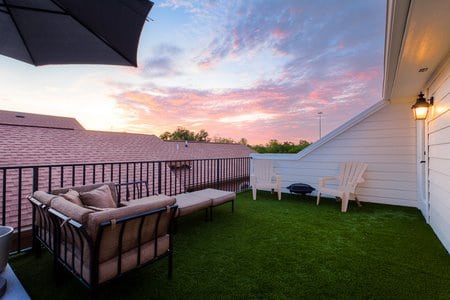 This outdoor turf deck lets the owners of this quiet suburban home feel soft, swaying blades of synthetic grass between their toes, even from the second story of their home. An umbrella-covered love-seat sits across from a pair of Adirondack chairs flanking a small charcoal grill — perfect for those cool autumn nights with sturdy turf beneath your feet and a dazzling sunset overhead.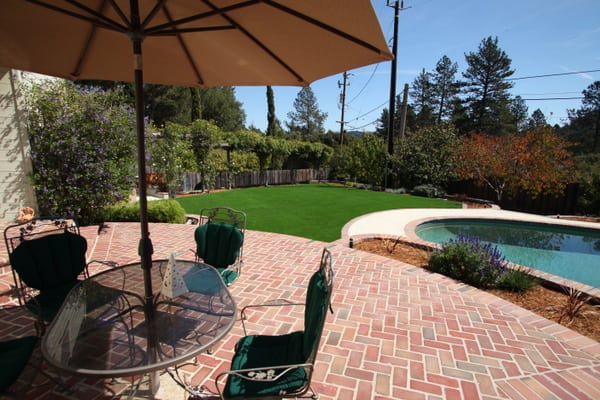 The red hue of this backyard brick patio contrasts nicely with the always-green appearance of the outdoor turf. The homeowners had an eye for color, not allowing any one surface to dominate the other — as you can see, the artificial grass curves to fit gently into place next to the patio and sparkling blue pool. Best of all, you know they're saving a lot of money on maintenance and water with this yard (which leaves more dough for more backyard parties, right?).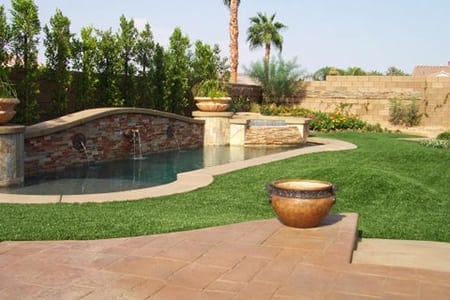 Not pictured: the cozy seating area for two that enables long, intimate talks that go long into the evening. Pictured: the gorgeous three-fountain wall, cascading water into a shallow wading pool. Swimmers can walk straight from the pool's steps onto the soft outdoor turf and back with ease, without worrying over the lawn getting muddy and tracking said mud back into the pool.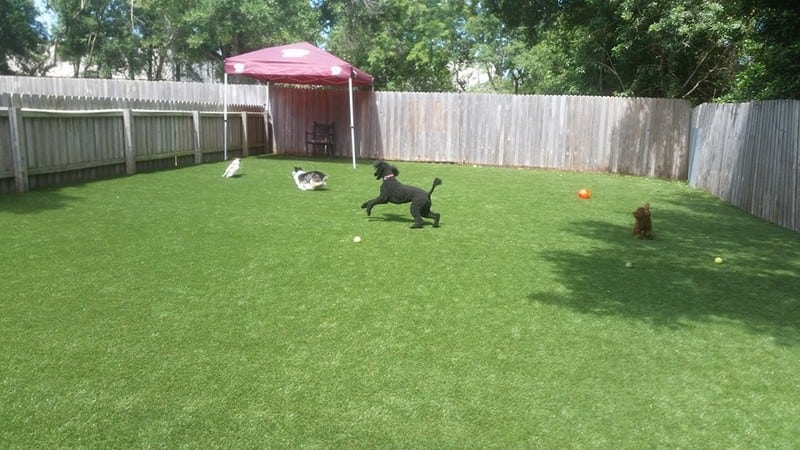 They say a dog is man's best friend, but we'd make a case for this outdoor turf being a close second for this homeowner. Not only does the synthetic grass make an excellent surface for running, jumping, rolling, and all-around playing in both shade and sun, but it even resists pet odors when dogs have to do their business. Clearly, setting up a canopy and watching the canines go is this homeowner's idea of a good time. Choosing outdoor turf means they get to spend more time doing just that and less time worrying about pet messes that require more work than a quick pick-up and hose down.
Outdoor Turf: The All-Around Excellent Choice for Any Application
There's no doubt that synthetic outdoor turf is great for front lawns, backyards, playgrounds, and sports applications. But when it comes to relaxing and unwinding after a hard day, it's got a lot going for it in that respect, too. If you're imagining a new landscaping area for your R&R needs, you could do no better than outdoor turf.